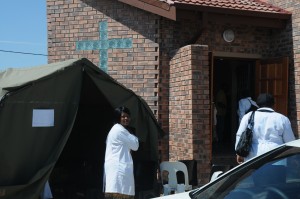 When we work with pastors and local church leaders in southern Africa, the primary goal is to eliminate the stigma of HIV and AIDS from their congregations, building what we refer to as "stigma-free congregations." We obviously work with Christian congregations, but the need to eliminate stigma isn't limited to Christians – the stigma of HIV and AIDS is present in many faith communities around the world. Although the faith traditions are different, it seems that many of the issues are similar.
As a way of focusing anti-stigma work across multiple faiths, we have developed a working definition of "stigma-free faith community." It consists of ten characteristics that seem to be common across different local faith communities that have successfully fought the stigma. The definition is as follows:
A Stigma-Free Faith Community …
Talks openly about HIV and AIDS, as well as related issues such as sexual behavior and gender inequality
Describes HIV and AIDS as medical conditions, not punishment for immoral behavior
Provides basic factual information about HIV and AIDS, including methods of transmission, treatment and prevention, to those who are uninformed
Encourages members to participate in all faith community activities, regardless of HIV status
Repeatedly and consistently gives messages of compassion, not judgment, toward people living with HIV
Focuses on providing care and support to people living with HIV, rather than on how they became infected
Encourages positive living through education and support groups for people living with HIV
Actively encourages testing for all members and provides facilities for voluntary counseling and testing
Affirms the individual responsibility of all members to know their HIV status and to refrain from behavior that risks transmission of HIV
Works proactively with other organizations to address HIV and AIDS issues in the wider community
We would be interested in feedback from others involved in fighting stigma in different faith communities.